Welcome
The North and West Metropolitan Region Palliative Care Consortium website provides information and resources on palliative care.
CHECK OUT OUR LATEST ANNUAL REPORT 2022-2023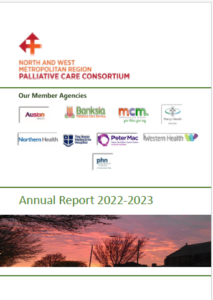 Our Purpose
The purpose of our Consortium is to support the delivery of effective, responsive, and accessible palliative care services to people residing in the north west metropolitan region of Melbourne through:
effective regional planning that identifies service gaps and the unmet needs of certain populations.

exploration of service models that ensure continuity of care across the service system.

contributing to the development of sound policy.

promotion of the role of palliative care as a significant component of the health care system in addressing end of life care needs.

collaborative identification of resolutions to service and sector problems that prevent access to and provision of services.
We support initiatives that ensure palliative care services in our catchment remain contemporary, evidence based, client centered and coordinated, and reflect the varying needs of the region's population.
We promote collaborative approaches to quality improvement in palliative care and end of life care.
Our work is guided by the Victorian Government end of life and palliative care framework released in June 2016 and other policies and programs to support people with a life limiting illness and their carers, families, friends and communities.