Palliative Care in Residential Aged Care Facilities
The North and West Metropolitan Region Palliative Care Consortium Aged Care Strategy aims to engage with the aged care sector in the north and west metropolitan region of Melbourne and strengthen the capacity of the sector and its workforce to provide palliative care and end of life care consistent with Victoria's end of life and palliative care framework.
Like Palliative Care Australia, we believe palliative care is core business in aged care. Check out the Palliative Care Australia's website to find out more about their recommendations to improve palliative care in aged care.
https://palliativecare.org.au/palli8-core-business-in-aged-care
As you know, no set timelines define end of life care but, due to illness or old age, many people will require responsive care as they approach death. High-quality end of life care relies on open communication, informed decision making and collaboration among health care providers, families and carers.
https://www2.health.vic.gov.au/hospitals-and-health-services/patient-care/end-of-life-care
In order to strengthen capacity to provide high quality palliative care to your residents we have developed The STEPS Framework. This approach identifies:
suggestions and information to strengthen your local palliative care systems and processes.
on line education and training resources to strengthen knowledge and confidence of your workforce to meet resident's palliative care needs and provide support to families and carers.
'The Steps Framework' has three discrete steps:
Step 1: getting the basics in place
Step 2: building knowledge and capacity
Step 3: measuring your outcomes and bench-marking against your peers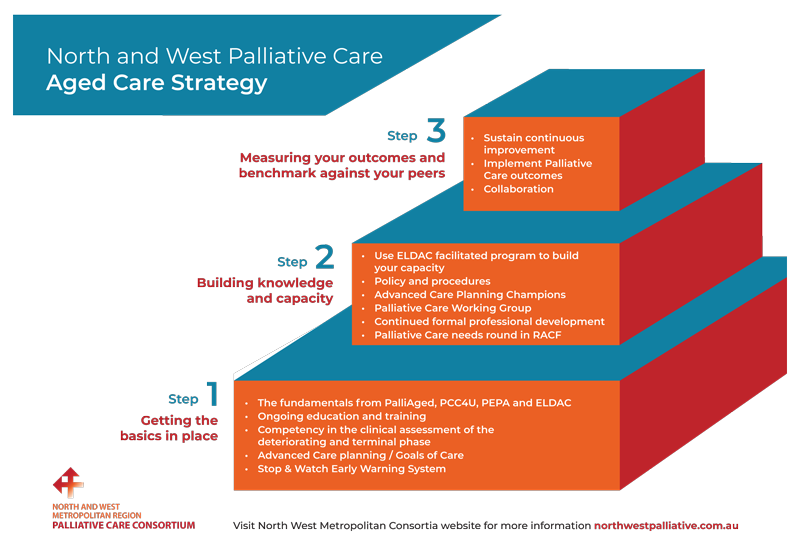 We have developed a 'how to guide' for each step to show how your organisation can evolve and improve its palliative care systems and practice.
Each 'step' is unpacked and includes links to useful resources and information.  So let's go…………
---
THE STEPS FRAMEWORK
We have prepared a quick guide to work through each of the 'steps' which includes links to key websites and resources.
If you want any more information about our Aged Care Strategy or 'the Steps' contact our Project Lead
STEP 1 – GETTING THE BASICS IN PLACE
STOP AND WATCH – EARLY WARNING COMMUNICATION SYSTEM
This is an early warning communication tool that Personal Care Workers (PCAs) or other personnel (housekeeping, dietary, family members, volunteers) can use to alert a nurse if they notice something different in a resident's daily care routine.
The system requires the nurse to assess the resident, undertake appropriate action which could include ongoing monitoring, and/or change in plan of care, and/or refer to GP or other clinicians.  All staff involved in the care of the resident and their family are made aware of the resident's changed status.Close monitoring remains in place until an appropriate care plan is implemented and the nurse advises'stop and watch' monitoring is no longer required.
https://www.nyrah.org/Materials/NYRAH_StopWatch_poster.pdf
PCAs are trained to respond immediately to the following triggers observed in a resident. (Anacronym of Stop and Watch!)
Seems different than usual
Talks or communicates less
Overall needs more help
Pain: new or worsening
Ate less
No bowel movements in 3 days or diarrhoea
Drank less
Weight change
Agitated or nervous more than usual
Tired, weak confused or drowsy
Change in skin colour and condition
Help with walking, transferring, toileting more than usual
When nursing staff are advised by the PCA of any of the above triggers, they assess the resident, complete a 'Stop and Watch' alert tool which remains in place until a clear plan to address the identified trigger is implemented.
ADVANCE CARE PLANNING
Advance Care Planning (ACP) is the process which enables individuals to make plans about future health care to provide direction for healthcare professionals when a person is not in the position to make and/or communicate their own choices.  Here is the link to Advance Care Planning Australia – http://www.advancecareplanning.org.au/
Advance Care Planning and Aged Care
Advance Care Planning should begin before a person requires community or residential aged care services.  If you want to know more about Advance Care Planning and Aged Care, here is the link: https://www.advancecareplanning.org.au/understand-advance-care-planning/advance-care-planning-in-specific-health-settings/advance-care-planning-and-aged-care
General practitioners and aged care teams play a key role in Advance Care Planning so it's important for them to have a good understanding of what advance care planning is and what's involved in the advance care planning process.
Advance Care Planning processes differ from state to state.  Here is a link to advance care planning information and processes as it applies in Victoria: https://www.advancecareplanning.org.au/create-your-plan/create-your-plan-vic
Many people admitted to residential aged care have cognitive impairment and may have lost decision-making capacity, which limits their ability to undertake advance care planning.  Residential aged care providers can still play a key role in advance care planning by:
identifying if a resident has an advance care directive.
identifying the resident's substitute decision-maker.
talking with residents about their values and preferences, regardless of cognitive capacity, and involving their substitute decision-maker and others, such as family, in the conversations.
ensuring timely sharing of information with other services and healthcare providers when capacity is lost and a care or medical decision is required or if transfer of care is required.
helping the resident's family or loved ones to create an Advance Care Plan.
Training and education
Training and education is the best way for aged care workers to improve their knowledge and confidence to have advance care planning conversations. There are a range of online courses, workshops, webinars and information sessions on advance care planning.  Here is the link to help you strengthen the skills of your workforce: https://www.advancecareplanning.org.au/training-and-education
GOALS OF CARE IN AGED CARE
Goals of Care are a way of describing what medical treatments a person will receive. They are different to an advance directive which provides information about the person's preferences. Goals of Care should, where reasonable incorporate the wishes and preferences of the person. There should be open, honest and realistic discussion around end of life care to inform the Goals of Care. These should be reviewed with the resident, families and carers each time the resident's condition changes by the resident's medical specialist or General Practitioner and documented. This can include when:
the resident is readmitted to hospital.
there are significant changes in the resident's condition or circumstances.
the resident, substitute decision maker or family request it.
the resident, substitute decision maker or family expresses concerns.
A Goal of Care plan helps to ensure that residents, who are unlikely to benefit from medical treatment aimed at cure, receive care appropriate to their condition and are not subjected to burdensome or futile treatments.
Consider including a Goals of Care Plan in each admission process as part of a defined management plan. The management plan should also include a plan for regular review of the Goals of Care, and the review under certain conditions (such as but not exclusively a hospital admission, notable functional decline or incomplete recovery from an infection or a fall…).
Conducting a family meeting can be useful to provide information, to address the family's questions and concerns, and to establish Goals of Care.
Useful links about Goals of Care:
Communicating Goals of Care via ISBAR 
Goals of Care can be communicated using ISBAR to support handover.
Information about ISBAR (Acronym for Introduction/Identify, Situation, Background Assessment, Recommendation) can be found at ISBAR – A handover 'how to' | Australian Commission on Safety and Quality in Health Care.
Also useful is a link to using the ISBAR Framework in aged care developed by the Western Health Alliance LTD in NSW and Western NSW PHN:www.wnswphn.org.au/uploads/documents/corporate%20documents/WHAL%20RACF%20ISBAR%20Framework_FINAL.pdf#:~:text=RACF%20ISBAR%20Framework%20is%20being%20developed%20as%20a,protocols%20within%20the%20residential%20aged%20care%20facility%20%28RACF%29
COMPETENCY IN HEALTH ASSESSMENT AND ONGOING EDUCATION AND TRAINING
There are face to face and on-line education and skills training staff can undertake to improve their skills when assessing residents.
Comprehensive health assessment of the older person conducted by La Trobe's Australian Centre for Evidence Based Aged Care (ACEBAC). This 3-day practical workshop is for registered nurses developing hands-on skills in assessment, care planning and care delivery for older people and is an opportunity to update knowledge and skills while adding to hours of continuing nursing education. https://www.latrobe.edu.au/courses/short-courses/comprehensive-health-assessment-of-the-older-person
THE FUNDAMENTALS FOR PALLIATIVE CARE
Start with Stop and Watch …………………….then learn what's out there…………………….
palliAGED
Website: https://www.palliaged.com.au/tabid/4248/Default.aspx
palliAGED is the palliative care evidence and practice information resource for the Australian aged care sector. Providing support for health and care practitioners as well as resource developers, the website provides trustworthy information for older Australians, their families and friends.  The Practice Centre provides links to, and information about, evidence-based tools and resources you can use in your practice. Each topic covered in the Evidence Centre has a companion page helping you apply evidence in your practice.
Then study it …………….
PCC4U Palliative Care Curriculum
Website: https://pcc4u.org.au/
The PCC4U project aims to improve the skill and confidence of the health workforce to work with people with palliative care needs by promoting the integration of palliative care training within all health undergraduate, entry-to-practice, and relevant post-graduate curricula.  PCC4U promotes the inclusion of palliative care education as an integral part of all medical, nursing, and allied health undergraduate and entry to practice training, and ongoing professional development.
Then bring it into your workplace……………..
ELDAC: End of Life Directions for Aged Care
Website: https://www.eldac.com.au/
ELDAC provides information, guidance, and resources to health professionals and aged care workers to support palliative care and advance care planning to improve the care of older Australians.
The Residential Aged Care Toolkit provides information and guidance to support palliative care and advance care planning for residents and their families. Within each section of the toolkit you will find information, assessment tools, forms, templates and/or family resources.
Then go and see how others do it!
PEPA Program of experience in Palliative Care
Website: https://pepaeducation.com/
The Program of Experience in the Palliative Approach (PEPA) forms part of the Palliative Care Education and Training Collaborative (the Collaborative). As a national palliative care project, the Collaborative takes a strategic approach to education and training of the healthcare workforce and delivers programs for priority healthcare provider groups across primary, secondary and tertiary settings.  Specifically, PEPA aims to enhance the capacity of health professionals to deliver a palliative care approach through their participation in either clinical placements in specialist palliative care services or interactive workshops. PEPA provides opportunities to develop confidence, knowledge and skills in the palliative approach to care through:
funded clinical workforce placements or workshops
integration of learning into your workplace
establishing networks of support
And become a palliative care champion in your workplace!
STEP 2: BUILDING KNOWLEDGE AND CAPACITY
PALLIATIVE CARE NEEDS ROUNDS
Palliative Care Needs Rounds are monthly 60 minute staff triage meetings, where aged care staff and palliative care clinicians review and discuss the status of 4-6 residents in the aged care facility. The choice of residents to discuss is based on those most in need. The idea is to focus on those who are at greatest risk of dying without a plan in place and who have a high symptom burden.
You can find out more about needs rounds here: Needs rounds
CONTINUED FORMAL PROFESSIONAL DEVELOPMENT
Staff with an interest in advancing their knowledge of palliative care should be supported and encouraged to pursue further study.
CareSearch has information about a range of educational options relevant to palliative care including: university courses, short courses, conferences and web-based learning. http://www.caresearch.com.au/caresearch/Education/tabid/67/Default.aspx.
Read about 'Nurse Practitioners in aged care are the future': https://palliativecare.org.au/palliative-matters/nurse-practitioners-in-aged-care-are-the-future
PALLIATIVE CARE WORKING GROUP
Consider setting up a Palliative Care Working Group to:
Establish structures for implementation – work plans, performance measures, monitor and report progress and achievements.
Identify and support of palliative care and advance care planning champions.
Develop and review of policies and procedures.
Review of clinical domains.
Review / develop staff training strategy.
Engage and monitor quality improvement activities.
Review and align practice to aged care standards and funding support.
Identify and engage key internal and external stakeholders.
Check out the ELDAC website for more information: https://www.eldac.com.au/tabid/5032/Default.aspx
ADVANCE CARE PLANNING CHAMPIONS
The role of the palliative care and Advance Care Planning champions may include:
Acting as an ambassador for palliative care and Advance Care Planning.
Promoting and reviewing how palliative care and Advance Care Planning is being provided.
Selecting key staff and stakeholders to be part of the working group.
Acting as a resource for other staff, residents and family.
Assisting with or coordinating palliative care and Advance Care Planning quality improvement activities.
Check out the ELDAC website for more information: https://www.eldac.com.au/tabid/5032/Default.aspx
STRENGTHENING KEY POLICIES AND PROCEDURES
Reviewing and strengthening key policies and procedures will provide a strong foundation to support best palliative care practice.  Think about the following:
Analyse your organisation's current performance in palliative care and advance care planning processes and identify areas for improvement.
Decide external experts that your organisation might partner with to review policies and procedure (e.g. community palliative care).
Work together with partners to review policies and procedures and define palliative care and advance care planning improvement goals and performance measures.
Check out ELDAC website for more information: https://www.eldac.com.au/tabid/5080/Default.aspx
ELDAC FACILITATED PROGRAM
ELDACs team of facilitators assist, support and enable health and aged care workers to provide best quality care for older Australians and their families at the end of life.   There is further information and links in the current ELDAC Newsletter and in particular the new blog on ELDAC Working Together Program
STEP 3: MEASURING YOUR OUTCOMES AND BENCHMARKING AGAINST YOUR PEERS
IMPLEMENT PALLIATIVE CARE OUTCOMES COLLABORATION (PCOC) IN AGED CARE
PCOC is a national program that utilises standardised clinical assessment tools to measure and benchmark patient outcomes in palliative care.
PCOC's residential aged care (RAC) palliative care outcomes program care helps improve palliative care outcomes in residents, and their carers and family. It provides a routine screening, assessment and response model to be used with each resident. Click here for more information PCOC in Aged Care.
The program is a proven model in driving systems-level improvements across different care settings with older adults including a protocol for routine clinical assessment and response capturing important and meaningful information that help improve resident and carer outcomes. Part of the PCOC model in aged care involves feedback to individual residential aged care facilities and service-to-service benchmarking driving ongoing improvements.
The program also supports residential aged care facilities in meeting Aged Care Quality Standards and helps achieve and maintain accreditation. Download the Mapping PCOC to ACQS resource (pdf) which supports facilities in achieving accreditation and describes how PCOC supports the quality standards.
Participation in PCOC is free and voluntary.
SUSTAINED CONTINUOUS IMPROVEMENT
Using ELDAC and PCOC programs support ongoing improvement that focuses on the quality of care and services.These programs:
consider the needs of residents and families and involve them in improvement activities.
support assessment of the organisation's systems and processes including standards of care and services.
are results-focused measuring outputs and outcomes.
To be effective, continuous improvement must be the organisation's primary focus, be understood across the organisation and be accepted and promoted by management and staff.
---
INFORMATION ABOUT SUPPORT SERVICES IN OUR CATCHMENT
This section provides information about services that can help you to provide palliative care support for residents in your facility.
Palliative Care Advice Service
The Palliative Care Advice Service is a phone-based service for anyone seeking specialist guidance and advice about life-limiting illness. It's for those living with the illness and those who support them, such as family, friends and neighbours and all healthcare workers.
The Parkville Integrated Palliative Care Service at The Royal Melbourne Hospital runs the service 7am–10pm, seven days a week. The service is free, confidential and available for everyone in Victoria.
To contact the Palliative Care Advice Service call 1800 360 000 or visit www.pcas.org.au for further information.
Community Palliative Care
Community Palliative Care provides holistic care including nursing care, allied health, respite and practical support, as well as information, equipment, medications and access to medical review and assessment for people requiring palliative and the community including aged care facilities.
Refer patients and families to community palliative care if the person:
has unstable and complex symptoms
has complex spiritual, psychosocial, cultural or bereavement needs
is approaching the terminal phase and wants to die at home (in their facility).
There are three community palliative care services in the north and west metropolitan region:
To check which service covers your facility use the 'Find a Palliative Care Service' log into Palliative Care Victoria and enter the postcode of your facility: https://www.pallcarevic.asn.au/
Goals of Care are for supportive/palliative care and the resident has complex or unstable symptoms, family not understanding or accepting the prognosis or there is potential for complex spiritual, psychosocial, cultural or bereavement needs.
Residential In-Reach Services
A number of health services in Victoria can provide residential in-reach support where appropriate and safe to people living in residential aged care facilities to reduce the risk of unnecessarily going to hospital.
All residential in-reach services operate for Monday to Friday. Some residential in-reach operate during the evening and over the weekend.
Links to Residential In-Reach services in our catchment provide information about access, operating hours and scope of service provided:
Palliative Care Outreach Service
https://www.bettersafercare.vic.gov.au/improvement/projects/oppc/rapid-assist

Some hospitals have a Palliative Care Outreach Service.
This service provides specialist palliative care assessment, symptom management and family support for residents who have Goals of Care indicating comfort and symptom management is a priority. Non-burdensome treatments deliverable in the facility for potentially reversible symptoms would be acceptable.
---
SYMPTOM MANAGEMENT RESOURCES
This section provides information and resources about symptom management.
Guide to the Pharmacological Management of End of Life (Terminal) Symptoms in Residential Aged Care Residents.
High quality end of life care requires ongoing assessment of the resident and timely use of pharmacological and non-pharmacological strategies to address emerging symptoms.
Failure to do so can result in poor resident and family outcomes as well as poor health system outcomes if dying residents are inappropriately transferred to emergency departments and hospital wards.
Residential aged care staff responsible for managing and administering medications to control end of life symptoms require:
High level and up-to-date knowledge regarding end of life symptom management and the appropriate uses of palliative care medications.
Immediate access to these medications in order to relieve symptoms as they occur.
Locally specific policies and procedures, linked to the continuous improvement and risk management programs of their residential aged care facility, to allow safe and effective medication management.
A toolkit has been developed by the Brisbane South Palliative Care Collaborative as an educational resource and is intended for use by health professionals working in Australian residential aged care. The resource has been prepared to provide information on the use of medications in contributing to optimal symptom management during the terminal phase of a resident's life.  Here is the link:
https://www.caresearch.com.au/Caresearch/Portals/0/PA-Tookit/Guide%20_to_the_Pharmacological_Management_of_End_of_Life%28Terminal%29Symptoms_in_Residential_Aged_Care_Residents_1.pdf
Abbey Pain Scale
The Abbey Pain Scale is an instrument designed to assist in the assessment of pain in patients who are unable to clearly articulate their need. For example, residents with dementia, cognition or communication issues. Here is the link: https://www.apsoc.org.au/PDF/Publications/APS_Pain-in-RACF-2_Abbey_Pain_Scale.pdf
Dementia
It is recognised that dementia is a terminal condition for which a palliative approach is appropriate. This resource provides guidance for health professionals on palliative and end-of- life care for people with dementia and those who support them. https://palliativecare.org.au/?attachment_id=11589
Palliative Care information brochures
The following resources are also available under the Families and Patients section of Palliative Care Victoria website.
---