Education, resources and training
Our STEPS diagram provides a guide to support gradual development of palliative care skills and knowledge.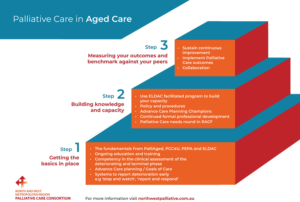 HANDOVER AND NEEDS ROUNDS YOUTUBE VIDEOS
We have created two short animated YouTube videos.
The first is on Handover to Residential Aged Care Facilities which provides a guide to supporting effective communication for resident's with complex, chronic healthcare needs between the acute setting and residential aged care.
Click here for handover youtube video.
The second video is on Needs Rounds in Residential Aged Care Facilities. These are regular Palliative Care Reviews Rounds of deteriorating residents conducted by palliative care specialists with Residential Aged Care Facility staff to support palliative care planning and providing RACFs with resident triage and case based education.
Click here for Needs Rounds youtube video.
TOWARD THE END-OF-LIFE YOUTUBE VIDEO
This video provides Residential Aged Care staff with guidance around caring for a resident as they deteriorate and approach the end of their life and how to communicate these changes with their family.
Click here for Toward the end-of-life youtube video.
ADVANCE CARE PLANNING AND GOALS OF CARE YOUTUBE VIDEO

Having an Advance Care Plan and current Goals of Care support timely and effective communication with residents and families and, sound decision making ensuring the resident has a comfortable, dignified death. This video provides a guide for Residential Aged Care staff when discussing advance care planning and goals of care with family and carers.
Click here for Advance care planning and goals of care youtube video.
ELDAC (End of Life Directions for Aged Care)
This section of the ELDAC Residential Aged Care toolkit provides an opportunity for you to evaluate your learning and development needs and create a personal learning plan. Links are provided to online and other types of resources to help you improve your knowledge, skills, and confidence in providing palliative care and advance care planning.
Please contact Jennifer Gavin Project coordinator End of Life Directions for Aged Care for further information on ELDAC Expressions of Interest and Linkages Program – Service Development (eldac.com.au)
PEPA In Aged Care (Program of Experience in the Palliative Approach)
PEPA aims to enhance the capacity of health professionals to deliver a palliative care approach in aged care through Reverse PEPA Placements. A team of specialist palliative care and aged care educators provide education and training in aged care services where needed.
Click here for more information.
PACE APP (PCC4U)
PACE is a resource directory for educators and health and aged care providers. Access relevant palliative care education resources direct to your electronic device.
Click here for more information.
COMPETENCY IN HEALTH ASSESSMENT OF THE OLDER PERSON
The 'comprehensive health assessment of the older person' three-day workshop is conducted by La Trobe's Australian Centre for Evidence Based Aged Care (ACEBAC). This is for registered nurses developing hands-on skills in assessment, care planning and care delivery for older people. It is an opportunity to update knowledge and skills while adding to hours of continuing nursing education.
Click here for more information.